Today's smartphones and other mobile devices increasingly make use of organic light-emitting diode (OLED) panels to realize better image quality. By 2020, more than half of all such devices are expected to have them. It is also now commonplace for users to listen to music and watch videos on tablets. The power requirement of mobile devices thus continues to grow, spurring end product manufacturers to search for ways to make their tablets more energy-efficient.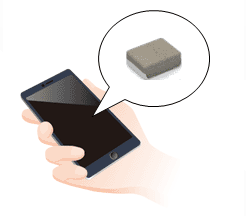 Already in mass production, Alps Electric's GLU Series Liqualloy™ Power Inductor has 25% lower DC resistance than the company's existing product, achieved through use of next-generation materials and coil technology advancement. This improves power conversion efficiency, especially with a heavy power requirement. Excellent characteristics are demonstrated even when OLED panels are set on high brightness or during video playback, thereby helping to extend the life of mobile device batteries.
As a chip type component, electrodes of the GLU Series are located on the base, which is useful for achieving low height. Because there are no electrodes located on the top of the power inductor, noise suppression components or other parts can be installed in close proximity to it. This improves flexibility in end product design.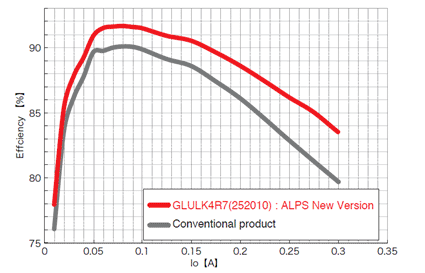 Efficiency comparison in an OLED display panel